About Ali Pervez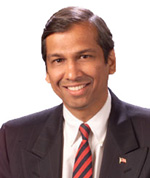 Ali Pervez is one of America's leading marketing experts who passionately believes that marketing is for everyone. His work focuses on helping not only organizations, but also on helping individuals improve their effectiveness in marketing.
Pervez is the author of the books Marketing is King! and Get Your Black Belt in Marketing. He has over 20 years of global marketing experience, and has done marketing projects in 22 countries outside of the U.S. Starting as a marketing analyst, he rose to the position of Vice President of Marketing for a California based biotechnology company.
His first book, Marketing is King! was introduced to Morgan James Publishing New York, N.Y. by the father of Guerilla Marketing , Jay Conrad Levinson. He has also worked with legendary marketing guru and icon Jay Abraham on the launch of Jay's new book, The Sticking Point Solution.
Pervez has held senior marketing positions at both start-ups and major U.S. Fortune 500 Companies, including Abbott Laboratories, Sonoco Products Company, and Robert Half International. At Abbott Laboratories, he was a recipient of two Vice President Awards for outstanding contributions in marketing within one year.
In four months, he tripled the sales of the division he ran for one of the fastest growing companies in the U.S., and while at a Silicon Valley Biotech startup he more than doubled the sales within a year. Pervez has a bachelor's degree in chemistry with honors, a postgraduate degree in Biochemistry, and also holds an MBA with a distinction project in marketing from the Manchester Business School, U.K. He has been interviewed by the media on the subject of marketing multiple times, including BBC. He currently lives with his wife and two children in the San Francisco Bay area.